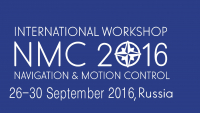 International Seminar «Navigation and Motion Control»
26-30 September 2016
Saint Petersburg, Russia
General information
The International Seminar «Navigation and Motion Control» will be organized by Department of Information and Navigation Systems of St. Petersburg National Research University of Information Technologies, Mechanics and Optics with the support of the State Research Center of the Russian Federation – Concern CSRI Elektropribor. The Seminar will be held on 26-30 September 2016 at the Test Center of the State Research Center Elektropribor (Leningrad Oblast, Priozersky District, bank of Ladoga Lake, Cape Cheryomukhin). You and your postgraduates are kindly invited to take part in the Seminar.

FORMAT OF THE SEMINAR
The Seminar includes overview lectures on theory and practice of designing modern navigation and control systems delivered by the leading Russian and foreign scientists as well as presentations by young scientists.
The Seminar language is English. The Seminar program includes a day boat trip to the Konevets Island (visit to the Konevetsky Monastery is included) or a day trip to town of Priozersk.
PROGRAM COMMITTE
O. A. Stepanov, Dr.Sc., Prof.
Concern CSRI Elektropribor, JSC, ITMO University, St. Petersburg, Russia

S. G. Revnivykh, Cand. Sc.
Reshetnev Information Satellite Systems Corporation, JSC, Russia

N. Terekhov, Dr.Sc., Prof.
Saint-Petersburg State University, Russia

G. F. Trommer, Prof., PhD
Institute of Systems Optimization of Karlsruhe Institute of Technology, Germany, ITMO University

Yu. V. Filatov, Dr.Sc., Prof.
St. Petersburg Electrotechnical University LETI, Russia

M. S. Finkelshtein, Dr.Sc., Prof.
Department of Mathematical Statistics University of the Free State, Republic of South Africa

I. B. Furtat, Dr. Sc.
Institute of Control Sciences RAS, St. Petersburg , Russia

M. V. Basin, Prof., PhD.
Autonomous University of Nuevo Leon, Mexico

Yu. A. Litvinenko, Cand. Sc.
Concern CSRI Elektropribor, JSC, ITMO University, St. Petersburg ,Russia
PARTICIPATION AND IMPORTANT DATES
Participation in the Seminar and accommodation at the Center is free of charge. A fee is to be paid only for food and beverage (approximate full day food and beverage fee is 1000 rubles).
In order to participate in the Seminar a participant should submit a paper abstract in English. The abstract is to be of 1000 printed characters. The text should include the author's full name, the organization's name, e-mail address and phone number. The Program Committee will select the participants before 15 July 2016.
30 June 2016 – Deadline for abstract submission
15 July 2016 – Notification of authors on including the papers in the Seminar program
26 – 30 September 2016 – Holding of the Seminar
SEMINAR PROCEEDINGS
The papers presented at the Seminar and selected by the Program Committee will be recommended for publication in «Gyroscopy and Navigation» journal. Please inform us about your intention to participate in the Seminar by e-mail.
Contacts:
E-mail: kmu_elprib@mail.ru, kmu@eprib.ru